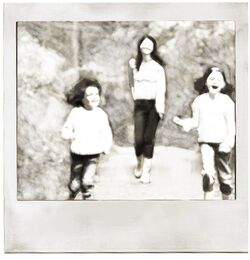 | | |
| --- | --- |
| Name: | Anna |
| Age: | 20-30 |
| Profession: | Waitress |
| Hometown: | , BC, Canada. |
Anna is the romantic interest of main character Will Mackenzie. Anna is the mother of two young girls,
Character design
Bio
Anna had an ex, a violent alcoholic who would disappear for months on end to work the tarsands in Fort St. John, only to return flush with cash and ready to burn it all on booze, drugs, and strippers.
Will took on the role of informal father-figure to Anna's two girls, even though he was not yet very experienced with life and didn't have any first hand experience with children.
Anna and Will's budding relationship became stressed when Will started to withdraw from her due to complications with Will's involvement in the family air transport business.
One day, Anna gave Will an ultimatum - she would forgive and forget whatever he had done and was hiding from her, provided he would put it all behind him and escape with her.
The next day, she packed up her car, loaded the kids into the back, and waited for Mackenzie for an hour. Will never showed up. Anna left.
Background and skills