Jurassic World: Dominion Dominates Fandom Wikis - The Loop
Play Sound
Bear Creek Campground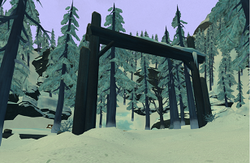 An abandoned picnic area in the middle of the woods
The Bear Creek Campground is a location in the Coastal Highway map on Sandbox mode.
Travelling alongside the highway, you may cross a short bridge over a frozen stream. Follow the stream uphill, and after some walking you will see the entrance in the middle of the woods.
General Overview
Bear Creek Campground is an abandoned campground in the middle of the woods, and seems to be long abandoned. It contains six wooden picnic tables, all broken, and a wooden pathway partially covered by the snow. The player will find an abandoned Backpack lying near one of the broken tables, and a Metal Container partially covered with snow in the middle of the campground. A Ravaged Deer Carcass can be found near the frozen stream, and will provide the player with some raw Venison, Deer Hide and Fresh Gut.
Despite the beautiful view, there is little to do in the campground. Few items will spawn here, and wolves may roam nearby, making the location a dangerous place to tread.
Loot
Possible items found in the Bear Creek Campground are:
Gallery
See also