Car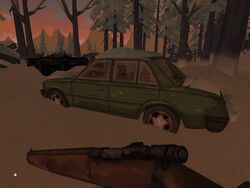 Details
Cars can be found across the roads and urban areas in The Long Dark, and can hold some useful items.
Description
Along Coastal Highway and Pleasant Valley many abandoned cars can be found partially covered in snow. The player can interact with the vehicles, taking shelter inside against the cold or wild animals, or simply having a quick stop to look for items abandoned inside the glove box and over the seats. Many parts of the cars can be manipulated by the character, such as the glove compartment, the trunk, the hood, the visors, and the tank cover. However, the trunk may require a prybar to open. It is uncertain whether the noise of prying open the trunk deters or attracts wolves, though hiding inside the car immediately before a wolf encounter seems to make the wolf lose interest and walk away.
Cars can be used as a safe place to sleep by selecting the "Bedroll" option while inside. A car gives +5.4 Degrees Fahrenheit boost when sleeping in it, but due to not being properly insulated (the car itself) doesn't provide much of a warmth boost. Also, sleeping inside of a car does not count as sleeping "indoors" and, as such, can be used as a means of deterring Cabin Fever.
The following items have been found inside cars, either inside the glovebox, over the seats or inside their locked trunks (need a Prybar to be opened):
---
---
---
---
See also