Clothing is what the player wears on their body, and is the most common protection against the weather. Mechanically, this translates into how fast the Cold meter decreases. Properly maintained clothing will keep the player warm in most environments, at the cost of carrying the clothing, and thus, having less weight to carry other items.
You can layer multiple clothing items on some parts of your body.
Each clothing item has 5 possible variants, depending on its condition. These levels are "New", "Decent", "Worn" ,"Ragged", and "Ruined". Clothing can be repaired with a Sewing Kit, usually requiring varying amounts of Cloth or Leather. Warmth and Windproof bonuses decrease linearly as condition decreases. Weight, Waterproofing, Mobility, and Protection are not affected by clothing condition.
Some clothing items cannot be found as loot, and must be crafted at a Workbench.
Clothing can become wet, and will freeze once wetness reaches 100 % if ambient temperatures are below freezing.

This article only addresses clothing which exists in-game beginning in alpha 0.386. For a list of clothing prior to alpha .386, see Legacy Clothing.
User Interface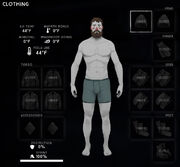 Alpha 386 introduced a new user interface for clothing.
Elements contained in the new interface:
A paper doll showing your current outfit. This helps to visualize which regions of your body are exposed to frostbite risk.
What you are currently wearing, and which slots are still empty.
Current air temperature.
Current windchill.
The warmth bonus provided by your clothing.
The windchill bonus provided by your clothing.
The current "Feels Like" temperature, based on current environmental conditions and your clothing.
The level of protection your currently equipped clothing provides.
The impact your current clothing has on your maximum stamina.
Current Clothing (alpha .386 - Present)
Torso
Shirts
Coats, Jackets, & Vests
Legs
Underwear
| Name | Warmth Bonus (°C) | Windproof Bonus (°C) | Weight (kg) | °C / kg | Waterproof (%) | Mobility (%) | Protection (%) |
| --- | --- | --- | --- | --- | --- | --- | --- |
| Thermal Underwear | 1.0° | 0.0° | 0.25 | 4.0 | 20 % |   0 % |   0 % |
| Wool Longjohns | 2.0° | 0.0° | 0.50 | 4.0 | 35 % |   0 % |   1 % |
Pants
| Name | Warmth Bonus (°C) | Windproof Bonus (°C) | Weight (kg) | °C / kg | Waterproof (%) | Mobility (%) | Protection (%) |
| --- | --- | --- | --- | --- | --- | --- | --- |
| Cargo Pants | 1.5° | 0.5° | 0.75 | 2.7 |   0 % |  -1 % |   3 % |
| Combat Pants | 2.0° | 0.5° | 0.75 | 3.3 | 10 % |   0 % |   5 % |
| Deerskin Pants | 2.0° | 2.0° | 2.00 | 2.0 | 60 % |   -5 % |   7 % |
| Jeans | 1.0° | 0.0° | 0.50 | 2.0 |   0 % |   -1 % |   2 % |
| Snow Pants | 2.5° | 2.0° | 1.00 | 4.5 | 50 % |   -5 % |   5 % |
| Work Pants | 1.5° | 1.0° | 1.50 | 1.7 | 10 % |  -3 % |   8 % |
Head
| Name | Warmth Bonus (°C) | Windproof Bonus (°C) | Weight (kg) | °C / kg | Waterproof (%) | Mobility (%) | Protection (%) |
| --- | --- | --- | --- | --- | --- | --- | --- |
| Balaclava[3] | 2.0° | 1.5° | 0.25 | 14.0 | 30 % |   0 % |   3 % |
| Baseball Cap | 0.5° | 0.0° | 0.25 | 2.0 |   0 % |   0 % |   0 % |
| Rabbitskin Hat | 2.0° | 1.5° | 0.35 | 10 | 30 % | 0 % | 4% |
| Cotton Scarf | 0.5° | 0.0° | 0.25 | 2.0 |   5 % |   0 % |   0 % |
| Cotton Toque | 1.0° | 0.5° | 0.10 | 15.0 | 10 % |   0 % |   1 % |
| Fleece Cowl | 1.5° | 1.0° | 0.50 | 5.0 | 20 % |   0 % |   1 % |
| Long Wool Scarf | 1.5° | 1.0° | 0.25 | 5.0 | 30 % |   2 % |   1 % |
| Wool Scarf | 1.0° | 0.5° | 0.10 | 15.0 | 20 % |   0 % |   1 % |
| Wool Toque | 2.0° | 1.0° | 0.25 | 12.0 | 30 % |   0 % |   2 % |
Hands
| Name | Warmth Bonus (°C) | Windproof Bonus (°C) | Total (°C) | Weight (kg) | °C / kg | Waterproof (%) | Mobility (%) | Protection (%) |
| --- | --- | --- | --- | --- | --- | --- | --- | --- |
| Driving Gloves | 0.5° | 0.5° | 1.0 | 0.10 | 10.0 |   0 % |   0 % |   1 % |
| Fleece Mittens | 0.5° | 0.5° | 1.0 | 0.10 | 10.0 |   5 % |   0 % |   1 % |
| Gauntlets | 2.0° | 2.0° | 4.0 | 1.00 | 4.0 | 40 % |  -3 % |   6 % |
| Rabbitskin Mitts | 2.0° | 2.0° | 4.0 | 1.00 | 4.0 | 50 % |  -5 % |   5 % |
| Ski Gloves | 1.0° | 1.0° | 2.0 | 1.00 | 2.0 | 30 % |   1 % |   3 % |
| Wool Mittens | 1.0° | 0.5° | 1.5 | 0.10 | 15.5 | 20 % |   0 % |   1 % |
| Work Gloves | 1.0° | 0.5° | 1.5 | 0.25 | 6.0 |   0 % |  -2 % |   4 % |
Feet
Socks
| Name | Warmth Bonus (°C) | Windproof Bonus (°C) | Weight (kg) | °C / kg | Waterproof (%) | Mobility (%) | Protection (%) |
| --- | --- | --- | --- | --- | --- | --- | --- |
| Climbing Socks | 1.0° | 0.5° | 0.25 | 6 | 25 % |   0 % |   0 % |
| Sports Socks | 0.2° | 0.0° | 0.10 | 2 |   0 % |   0 % |   0 % |
| Wool Socks | 0.5° | 0.0° | 0.25 | 2 | 20 % |   0 % |   0 % |
Shoes
| Name | Warmth Bonus (°C) | Windproof Bonus (°C) | Weight (kg) | °C / kg | Waterproof (%) | Mobility (%) | Protection (%) |
| --- | --- | --- | --- | --- | --- | --- | --- |
| Mountaineering Boots | 2.0 | 2.0 | 1.00 | 4.0 | 40 % | -3% |   5 % |
| Combat Boots | 1.5° | 1.0° | 2.00 | 1.3 | 20 % |  -7 % |   10 % |
| Deerskin Boots | 2.5° | 2.0° | 2.00 | 2.3 | 50 % |  -5 % |   7 % |
| Insulated Boots | 3.0° | 2.0° | 1.50 | 3.3 | 50 % |  -12 % |   4 % |
| Leather Shoes | 1.0° | 0.5° | 0.50 | 3.0 | 10 % |  -4 % |   1 % |
| Mukluks | 2.5° | 2.0° | 1.50 | 3.0 | 40 % |  -3 % |   5 % |
| Running Shoes | 1.0° | 0.5° | 0.50 | 3.0 |   0 % |  -0 % |   1 % |
| Ski Boots | 3.0° | 4.0° | 3.00 | 2.3 | 30 % | -20 % |   7 % |
| Trail Boots | 1.0° | 1.0° | 1.00 | 2.0 | 30 % |  -5 % |   3 % |
| Work Boots | 2.0° | 1.0° | 1.50 | 2.0 |   5 % | -10 % |   7 % |
Accessories
| Name | Warmth Bonus (C) | Windproof Bonus (C) | Weight (KG) | °C / Kg | Waterproof (%) | Mobility (%) | Protection (%) |
| --- | --- | --- | --- | --- | --- | --- | --- |
| Moose-hide Satchel | 0.0° | 0.0° | 0.25 | 0.0 |   0 % |   0 % |   0 % |
| Wool Ear Wrap | 1.0° | 0.5° | 0.25 | 6.0 | 20 % |   0 % |   1 % |