Jurassic World: Dominion Dominates Fandom Wikis - The Loop
Play Sound
Deer are one of the Animals that inhabit Mystery Lake, Coastal Highway, Pleasant Valley, Desolation Point and Timberwolf Mountain available in The Long Dark. Deer are non-aggressive and will run from the player if he/she gets too close. Wolves will chase and attack deer near them, and will also consume their carcass meat, leaving little for the player to harvest if given enough feeding time.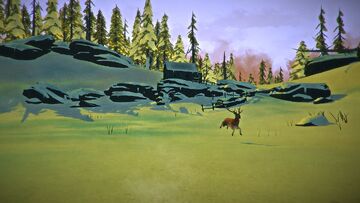 Information
Their meat, hide, and gut can be harvested from their carcasses, and they can yield many kilograms (about 10kg at most) of meat. Since they are very fast, the only way the player can kill a deer is using the Hunting Rifle or Bow. One shot is enough to kill a deer, however a near miss will cause them to run in panic for a few moments. If the deer does not die after 1 shot, then it will bleed out (time it takes to bleed out is dependent on if it is a arrow wound or a bullet wound).

Note, bullet wounds are more likely to kill the deer right away, but arrow wounds bleed the deer out faster.
Harvesting
As said before, a deer can be a excellent source of food to the player, but in order to catch one you will need a Hunting Rifle, or Bow and a good shot. So in early game, the easiest way is to look for Ravaged Deer Carcasses. They will probably not have much meat (or none at all), but even small amounts will serve the player well, for it has high caloric value. Depending on the state of the corpse, wether its frozen or not, you will need tools such as a Hunting Knife or a Hatchet in order to obtain it. In case you lack a tool to harvest the meat/hide, it is possible to unfreeze the carcass by starting a fire near the corpse and wait until it becomes possible to get the meat with the players hands.
As an alternative hunting strategy, baiting a deer into a wolf's path is possible. This implies however, a fight with the wolf in order to obtain the flawless carcass; instead of a spent Rifle Round or Arrow, the cost will be of one Bandage and one dose of Antiseptic to mend your wounds thereafter. This sometimes can result in torn clothing. Or you can use a flare or torch to scare off the wolf but this does not always work.

A deer will always give 1 piece of Fresh Deer Hide to the player that can be used to craft items such as the Deerskin Boots and Deerskin Pants, or repair existing deerskin items. In order to use the hides in crafting, the player will need to cure them for 5 days. To cure hides and guts just drop them down in a structure.

2 units can be harvested from a carcass. Guts can be used in crafting multiple items such as lines used to make fishing tackle, snares for trapping Rabbit, Deerskin Boots, Rabbitskin Mitts, Wolfskin Coats, and other top teir clothing items.
Alternate Hunting/Scavenging Strategy
On Pilgrim, it is possible to run a deer into a wolf (or viceversa) and then scare the wolf off to collect the spoils.
Note: After scaring the wolf away, it is almost impossible to get the corpse in 100% condition.
See also