watch 01:25
Jurassic World: Dominion Dominates Fandom Wikis - The Loop
Play Sound
Desolation Point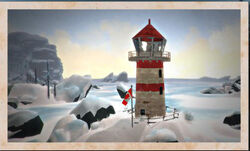 Desolation Point is one of the Regions in the game The Long Dark.
Description
For intermediate players. Several key shelters, plenty of hostile wildlife, and harsh weather conditions to be found around these remnants of a once-thriving whaling industry.
Connects to Coastal Highway.
This New Area, includes another mine entrance, lighthouse, broken boat and a whale processing plant.
Lighthouse
The lighthouse is a standard red-and-white striped tower, making it very, very easy to spot. The only two known ways of getting up to it are by scaling the side (the spot where the body is is the easiest) or by simply taking the path (and bridges) leading to it.
Note: This is likely the only self-contained safehouse in the area, with its storage, source of reclaimed wood (good if you're snowed in) and heat source. The one thing it's missing is a workbench.It also has a bed, crates, and you can go to the top of the lighthouse and go out side. This is a GREAT Starter place, that's right, you heard me, you CAN SPAWN in here.
Whale Processing
Officially named 'Hibernia Processing Plant', this is a very large facility featuring cars, trailers, a large warehouse and (presumably) whale bones.
Boat
A large fishing vessel known as the Riken, appears to be frozen into the lake. It is enterable via a hole in the right side of the ship, or by climbing up the ice onto the fore deck and entering the hull via the door. It's the only place that has a forge to start making your improvised tools. Plus there is a bed.
Gallery
See also