Jurassic World: Dominion Dominates Fandom Wikis - The Loop
Play Sound
Hunting Rifle
Details
Type:
Weapons
Weight:
8.82lbs / 4.00kg
The Hunting Rifle is one of the Items available in The Long Dark.
General Overview
The Hunting Rifle is one of three firearms (the others being the Distress Pistol and Revolver) present in game. It holds a maximum of 10 rounds and has a basic iron sight. It will usually bring a Deer down in one shot. Wolves can take 2 shots on the torso, but will die with 1 headshot. Bears can stand to 2-3 headshots, and 5 shots at his torso with full health. Since Rifle Rounds are rare and Rifle Ammunition even rarer, the Hunting Rifle is better used for defensive purposes only.
It can be repaired using the Rifle Cleaning Kit.
Locations
Possible locations where the rifle might be found.
Mystery Lake
Coastal Highway
Pleasant Valley
Desolation Point
Under Broken Bridge - Cave by the Waterfall - Rifle is on some rocks in the upper level of the cave
Hibernia Processing - Inside plant, crawl up the pipe and it is against the wall under the boat
Hibernia Processing. (first floor, behind 3 crates that must be broken down)
Hibernia Processing - second floor, under bunk beds
Stone Church (Inside the church, propped up against a wooden wall)
Mountain Town/Milton
Car, behind the post office
Milton House- Behind rocking chair
Under Spruce Falls Bridge (by the car)
Paradise Meadows Farm (on the bed)
Cave near Radio Tower
Notes
You can unload the rifle by selecting it on the bag and clicking the option "unload". All rounds/ammunition will be placed on the "materials" section
Harvesting the rifle will give the player 2 Scrap Metals
Trivia
The hunting rifle is a Lee-Enfield rifle (as the advanced gun research magazine tells you), It has a 10-round capacity and are popular among hunting rifle enthusiasts.
Hunting Rifle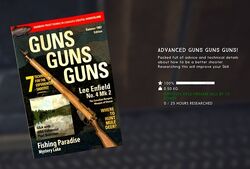 Being a Lee-Enfield, the hunting rifle seems a bit underpowered, as it takes 1-2 shots to kill a wolf, whereas in real life, some have used them to hunt dangerous game (safari-type animals). The Enfield rifles have also been used to extensive success in multiple major wars.
Its weight is exactly on par with the real thing, 8.8 lbs or 3.9 kg.
Per every five rounds loaded into a hunting rifle, the character will insert a stripper clip to load them.
See also