Line 3:
Line 3:
 

'''Mystery Lake''' is one of the [[Regions]] available in the Sandbox mode of [[The Long Dark]].

 

'''Mystery Lake''' is one of the [[Regions]] available in the Sandbox mode of [[The Long Dark]].

 
 
−

This is the first area you will explore. There are many buildings and other landmarks to discover and loot. You wont have to do much hunting here and can travel through the [[Ravine]] to [[Coastal Highway]] within a few days.

+

This is the first area you will explore. There are many buildings and other landmarks to discover and loot. to travel through the [[Ravine]] to [[Coastal Highway]] within a few days.

 
 
−

The map has a hilly terrain, making it hard to navigate East-West, especially in a blizzard. Its easy to navigate North-South between [[Carter Hydro Dam]] and [[Lake Cabins]] thanks to the river, and between [[Logging Camp]] and [[Camp Office]] via the railroad tracks (just beware of [[Derailment]]).

+

The map has a hilly terrain, . between Carter Hydro Dam and Lake to the , and and the

 
 
 
+

The railway provides a passable north-south walkway along the central portion of the map. Wolves congregate along several locations along the railroad. In particular, wolves are common near the Train Loading Area and Derailment locations.

⚫
 
 
+
 
+

The westernmost portion of the Mystery Lake region exhibits hillier and more heavily forested terrain, required increased caution for the explorer. The [[Trapper's Homestead]] is located in the southwestern corner of the map and provides another highly hospitable location for extended survival.

 
+
 
⚫
 
 
 

==Other locations==

 

==Other locations==
---
Revision as of 20:02, 4 November 2015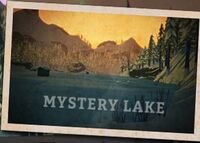 Mystery Lake is one of the Regions available in the Sandbox mode of The Long Dark.
This is the first area you will explore. There are many buildings and other landmarks to discover and loot. It is possible to travel through the Ravine to Coastal Highway within a few days. Additionally, Pleasant Valley is accessible through Carter River, a transition region found behind Carter Hydro Dam.
The map has a hilly terrain, and a few primary walkways allow navigation between destinations. The river provides the most direct path between Carter Hydro Dam and Mystery Lake along the eastern parts of the map. The Camp Office, one of the more hospitable structures in the region, is found on the west entrance to the lake, and fishing huts and cabins are scattered across the lake and its perimeter. Wolves are plentiful on and around the lake.
The railway provides a passable north-south walkway along the central portion of the map. Wolves congregate along several locations along the railroad. In particular, wolves are common near the Train Loading Area and Derailment locations.
The westernmost portion of the Mystery Lake region exhibits hillier and more heavily forested terrain, required increased caution for the explorer. The Trapper's Homestead is located in the southwestern corner of the map and provides another highly hospitable location for extended survival.
A map can be found here(it may not be 100% accurate).
Other locations
Gallery
See also