Pleasant Valley Farmstead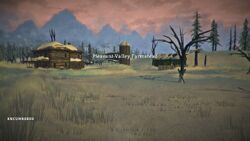 Pleasant Valley Farmstead is one of the Locations in Pleasant Valley. It contains a Workbench and a Fireplace.
It is a very effective base site for survival. One of the most interesting, and helpful features (especially for those playing on the Stalker difficulty where wolves can spawn right next to the door) is this inner door area. When the player leaves the building from this exit, they enter a small covered porch. This qualifies as indoors, and there is no wind chill even if the outer door is open. This allows the player to check the weather, and should a wolf be outside the player can leisurely walk out, see the wolf, and walk back in, without any fear of danger.
The Workbench is located in the basement, which can be entered through a cellar door on the outside of the house.
A bear regularly patrols near the house but it's easy to see thanks to the large open space around it which also makes it easy to hunt.
Natural Resources
Nearby, where the broken fence meets an outside shed, there are 2 Rose Hip Bushes.
Gallery
See also