Jurassic World: Dominion Dominates Fandom Wikis - The Loop
Play Sound
The Safe House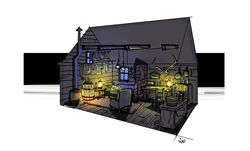 A Safe House is any of the many indoor spaces that a players uses as a temporary, or sometimes semi-permanent, base of operations. These locations are suitable for spending multiple days and nights and advancing the player's situation. Safe houses provide significant game-play value not limited to storing items found in-world, crafting, preparing crafting materials, cooking, sleeping and general shelter.
There will be a constant pull on the player to establish and eventually return to a safe house, or to establish another one. The tension between wanting to remain in the relative safety of a safe House vs. needing to head out into the world to find supplies and complete objectives will drive a lot of self-directed sandbox game-play.
Players can choose from a variety of locations to establish a safe house. Due to the procedural generation of the areas, some locations may be unavailable when playing the same map in a different playthrough. Some structures are persistent throughout any map, and might make for a better location for a safe house.
Key Location Features
Shelter from the elements
Weather in the Long Dark, and the Cold meter associated with it, is a constant threat to the player. Indoor locations, in general, have a higher air temperature than outdoor locations, and are not affected by windchill, and allow the player to recover from the effects of cold weather.
Gear and supply storage
Storage containers, once searched, can be used to store excess food, firewood, or any other inventory item. This allows the player a safe place to store items for later use, thus avoidingoverburden.
Workbench
Some shelters suitable as safe houses have a workbench. Workbenches can be used to craft essential items.
Curing
Indoor locations are needed to cure hides, guts, and saplings, turning them into their usable forms for crafting. Curing items takes time, so a Safe House, preferably one with a Work Bench, is a great place to leave these items for the time needed to cure.
Bed
Fatigue is a constant concern for the player, as emptying the fatigue bar will render the character unable to sprint, cause slower base movement, reduce carry capacity, and, in the latter stages, affect the player's vision. A bed will allow the player to sleep without the dangers of sleeping outside, such as getting caught in a blizzard or attacked by a predator. Beds also reduce a player's reliance on the Bedroll, thus extending its life.
Fire Container
Some shelters feature stoves, fireplaces, or fire barrels which can be used to create contained fires. Fire Containers are windproof, and many are indoors. While outdoor fire containers provide early-game players an easier-to-start fire and reduce reliance on accelerants, indoor Fire Containers allow the player to cook and melt snow in a safe and warm environment.