Jurassic World: Dominion Dominates Fandom Wikis - The Loop
Play Sound
The Safe House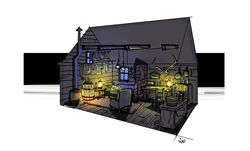 The Safe House provides significant gameplay value to the player and sometimes acts as a "gate" for content progress -- in other words, events that advance the story or change the world state may only occur when the player returns to the Safe House.
As such, there will be a constant pull on the player to return to the Safe House, and the tension between wanting to remain in the relative safety of the Safe House vs. needing to head out into the world to find supplies and complete objectives will drive a lot of self-directed sandbox gameplay.
Location Features
Shelter from the elements
Gear and supply storage
This includes excess gear (clothing, tools, repair components, weapons, etc.), food and water, fuel, first aid equipment, etc. Store "stuff" that you find in the world that you think might be useful but don't necessarily want to carry around with you wherever you go, and resupply on food, water, ammunition, etc.
Workbench
A good place to do some crafting or item repair beyond simple maintenance.
Bed
You'll get very tired exploring the world and will sometimes need to rest. "Using" the bed will bring up an analog watch interface you can set to advance time. Resting will reduce your Fatigue, and will advance certain health-related conditions (healing, or the progress of illness), and is also a useful way to advance time.
Bookshelf
You might find some useful books in the world on topics you'd like to learn more about. Find them and dedicate time to reading them, and you can increase your Knowledge about certain things in the world.