Timberwolf Mountain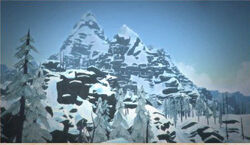 Timberwolf Mountain is one of the locations in the game The Long Dark.
Description
For advanced players. An isolated alpine region with very few shelters or resources. A true test of wilderness survival skills. It is recommended that players are in peak condition, have lots of food, quality clothing, and (preferably, if on any difficulty other than Pilgrim) a hunting rifle. Firewood isn't as important, as on the lower levels of the region there are many broken trees. There is very little shelter, so players may be required to sleep outside, which is very risky unless the player has a bearskin bedroll.
Connects to Pleasant Valley.
Shelter
There is very little indoor shelter on Timberwolf Mountain.
One of (if not the ONLY) piece of proper indoor shelter on Timberwolf Mountain is the Mountaineer's Hut. It is located near Crystal Lake, on the lowest level of the mountain. It contains two beds, a fireplace, several pieces of Cedar Firewood, a Workbench, a cellar and (usually) a heavy-duty Mountaineering Rope. Unfortunately, it doesn't provide as much warmth as you would expect from an indoor base. The two caves, one near the motor and one leading to the summit might be the better choice for a base, until the player has decent enough clothing the be able to sleep through the nights without additional warmth from a fire.
Climber's Jounal Pages
Inside the Mountaineer's hut, it is possible to find one of the Climber's Journal Pages.
It reads:
Sept 5th
Arrived at the base of Timberwolf Mountain. Looks like there are some nice cracks, just like Clive said. Going to go set up a top rope and do some bouldering until the others show up. Hopefully soon.
Sept 6th
Wondering if my friends got lost as they still haven't arrived. Woke up in the night to a deafening noise and fire on the mountain. Went to check it out but weather got nasty and I couldn't find my way.
Sept 7th
Clear day. I went out again. Found some metal cargo crates. Looks like they might have come from a plane. There's still smoke coming from the summit. I'm heading out to see if I can make it to the peak and learn more about what is going on.
The Crashed Airliner (possible spoilers)
Bits of a crashed airliner are scattered around the map. There are a number of Cargo Containers around the wreckage to scavenge for resources.
See also