Tags: Mobile edit, Mobile web edit

Line 6:
Line 6:
 
 
 

You can usually find some drops around this area, like a crow bar and a plastic box with items in it. Easy to get to by following the train track to the end of the line past Deadfall. Watch out for wolves in the woods to the west.

 

You can usually find some drops around this area, like a crow bar and a plastic box with items in it. Easy to get to by following the train track to the end of the line past Deadfall. Watch out for wolves in the woods to the west.

 
+
 
+

Next update the tunnel will be a transition to a new region!

 
+
 

==See also==

 

==See also==

 

*[[Mystery Lake]]

 

*[[Mystery Lake]]
---
Revision as of 00:45, 11 December 2016
Tunnel Collapse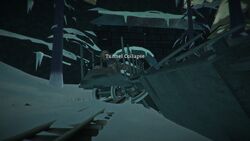 The Tunnel Collapse is one of the Locations within Mystery Lake.
You can usually find some drops around this area, like a crow bar and a plastic box with items in it. Easy to get to by following the train track to the end of the line past Deadfall. Watch out for wolves in the woods to the west.
Next update the tunnel will be a transition to a new region!
See also