Unnamed Pond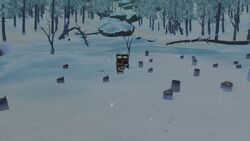 A view of the Unnamed Pond with a Bear in the background.
Unnamed Pond is one of the Locations within Mystery Lake.
This area is just crawling with Wolf, Bear and Deer activity. It serves as a good land mark when travelling between the Camp Office and Cabin, just to the North-East. The only feature here is the hunting stand, which has some supplies, commonly a Hatchet and rarely a Survival Bow with a Simple Arrow (could be broken).
See also